Freight Management System (FMS)
Rush Express has invested in a world-class FMS which has been refined, over the course of our fifteen years of operation, to meet needs of our business and to produce valuable data output to our customers.
From our fully automated system, you will benefit through the efficiencies experienced by delivery staff, as well as accurate and reliable data from greater control and superior reporting tools.
Our FMS offers real time access to meaningful data as listed: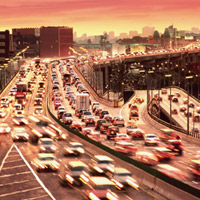 – pricing and financial data
– job bookings
– tracking
– delivery status
– reports
– movements through GPS technology
All processing and updating of the various information databases happens in real time – this eliminates "after the event, end of day" processing and updating of customer balances or driver information. With Rush Express you always have instant, on-line access to what is happening.
Rush Express in-vehicle or mobile data terminals and various portable data devices are fully supported by FMS with printers and/or displays as well as barcode scanning, consignment notes, signature capture and general track and trace.
Where it is possible to determine the driver who should do the job, the information may be sent directly to the driver without despatcher intervention. Alternatively the despatcher may allocate the job and transmit the information to the driver.
Tracking of freight is an important tool for both Rush Express and our client. Our tracking system not only allows for passive tracking of goods, but can proactively query tracking information against imported manifests, from a large number of import sources.
With everything being real-time, Rush Express has the potential to provide management and staff with improved decision making.